With the arrival of crowdsourcing services such as Indiegogo and Kickstarter, many of the boundaries you saw between your product and its fans- have instead become an opportunity to grow your products fanbase, reputation and brand while raising capital simultaneously.
Validating your product via Kickstarter has an interesting side effect that adds significant value in the early stages of growing your brands reputation. Being able to develop and refine your target market while getting a chance to ask them "would you buy this?" This practice is called validation (or validating your product), and gives you a boost in organic and reputable social media as well as gathering real-time, relevant and meaningful feedback.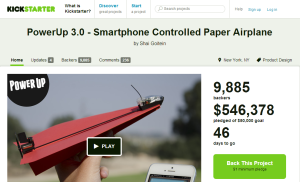 Crowdsourcing sites like Kickstarter and Indiegogo are primarily meant to give small businesses and entrepreneurs an opportunity to raise the initial capital needed to get their product, service, or idea to market with just a prototype. Users and fans are able to choose from multiple levels of donation- creating a sense of personal investment and ownership of your brand.
It's always an added benefit when you can help a customer feel good when they make a purchase or investment.